The Edublog Awards Site is a great place to look for influential people to fold into your PLN.   The best of the best are listed so it gives you wealth of resources to choose from and acquaint yourself with.  The categories vary, below are a few.
I am pleased to say that thanks to @mrsblanchetnet, and others, I have been nominated for an award in two categories.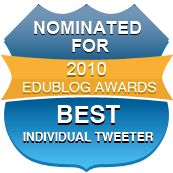 Please support my efforts and take the time to cast your vote for me.