On this page I take time out to pat myself on the back and pay tribute and homage to myself.
Some of you might think that's a little over the top but if I don't do it…  who will…?  Sooooo kudos to meeee!!!
This week, InSTEP is turning the spotlight on Valerie Burton, M. Ed. Ms. Burton, a veteran educator with over 15 years classroom experience, teaches ninth grade English and Composition in the New Orleans suburb of Harvey, La.
Guest Post on SimpleK12
I had the privilege of posting to the SimpleK12 blog and tell the world about EdCampLA –
EdCampLA is an opportunity for educators from the Greater New Orleans area and beyond to come together and share resources, ideas, opinions, kudos, disasters and advice. EdCampLA is scheduled for July 9, 2011 at the University of New Orleans and will allow Louisiana Educators an opportunity to connect and support one another in ways that can forever change the way we, Louisiana Educators, conduct professional development.
Edublogs Awards 2010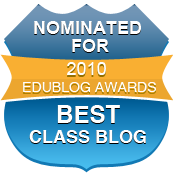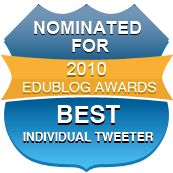 Mentions
Wiki-Centric Learningwas written by
Bridget McCrea a business and technology writer in Clearwater, FL.
She can be reached at bridgetmc@earthlink.net
High school teachers use wikis to manage their classrooms and create online collaboration opportunities. With wikis, their students can complete assignments, learn from each other, and communicate with their peers from around the world.
By Bridget McCrea
09/15/10
The article is written describing the technology integrated classroom activities of Vicki Davis (@CoolCatTeacher) a computer science teacher at Westwood Schools in Camilla, GA and myself.
Intel's Inspiring Educators
The Intel Teach courses promote student-centered approaches and help teachers engage students with appropriate use of technology for learning, creativity, and communication.
Their Inspiring Educators Contest required that I submit a video or essay that demonstrated how my Intel Training has transformed my teaching. In 2010, I submitted a video that showed how my Intel training changed my classroom and won a trip to attend the ISTE Convention.  Here is my winning video
Technology Model Classroom Grant
The Technology Division of Jefferson Parish Public School System selected me to participate in the Technology Model Classroom Grant in December, 2009.